Ritu Sinha is a Visiting Professor of Sociology in the School of Liberal Studies, Ambedkar University, New Delhi.
She is a PhD in Sociology from Jawaharlal Nehru University. Her research interest spans from political sociology to sociology of nationalism, diaspora, religion and gender. She previously worked with CARE, India and Dunu Roy on different projects.
 She has taught at other universities like Jamia Millia Islamia, South Asian University, etc., Currently, she is working on her book based on her doctoral dissertation.
Bharti Sharma, a recipient of the highest French distinction of the Award 'the Chevalier de l'Ordre National de la Légiond' Honneur 2017.
She did her Masters in Social work and Ph.D. on Juvenile Delinquency from South-Gujarat University, Surat. She retired as Associate Professor from Department of Social Work, Jamia Millia Islamia, Delhi. She served as Chairperson CWC, New Delhi, for two consecutive terms and was on the Committee for drafting Model Rules, 2007 of  J. J Act. 2000.
Presently she is an Honorary Secretary of 'Shakti Shalini' an NGO working on gender-based violence in Deli.
Tasneema, a former member of CWC Delhi,  strongly believes that the prevention of child abuse is the best way forward. 

She has been working for child rights for more than 25 years. She has worked on all aspects of child development including the Right to Education, Right to Protection, and juvenile justice. In addition, she has supported trauma response for children in crisis and their rehabilitation.
Azra has worked extensively across Canada, KSA and India. She completed her Masters from JNU, Delhi and has a Diploma in Education from Concordia University, Montreal, Canada. 
She was the coordinator for Special Care Center for mentally challenged children in Riyadh, under the patronage of Indian Embassy. She worked as a community worker at South Asia Community Center for women in Montreal and taught in Kindergarten.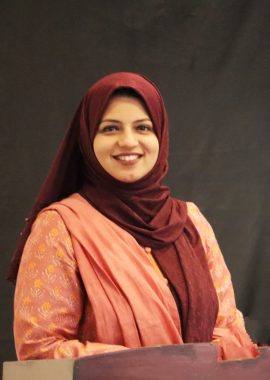 Asma Zaidi is the Territory Head of Telangana and J K for APER (E.C.A)- Association of Primary Education and Research in India. She is the Vice Principal of Focus High School in Hyderabad and a well known Family Counselor. She has been in the field of education for 21 years. Asma is popular for her parenting talk show on Channel WIN. She is also the author of a well known literacy program called Let's Read.
Vaidehi Subramani is a member of the 'Juvenile Justice Board' South Delhi. She is a former Chairperson of CWC South East Delhi.
She was Hon. Executive Director 'Akshay Pratishthan' for more than a decade. She was also associated with Indian Council for Child Welfare, Chennai. She has a long experience of working for the rights of children and disabled people.  
I began working with Sunshine Daycare center since its inception. My experience at the Sunshine Daycare center has revolved around developing and following a schedule, maintaining the books, keeping a tab on the supplies, and engaging with the children. I have also started working with the teachers to learn and appreciate the responsibility they have for ensuring that every child is enrolled in school and has all the relevant documents for the process.
I have worked in New York, Singapore, Delhi and Mumbai. My professional experience includes working at a startup financial advisory firm, Investment Banking, and now, in Private Equity. At PFO Sunshine, the message of 'prevention rather than rehabilitation' was something which I found relatively untapped and rather essential. At PFO Sunshine, I work in the digital marketing and editorial team, and fundraising.
I have been working with children for a while now and the approach of Pocketfull of Sunshine that is, prevention of such abuses by coming up with Creche and conducting door to door awareness drives is not only positively reinforcing but also an absolute necessity in times like these.
In light of a significant increase in cases of child abuse as well as crime rate among youngsters in recent years, we at Pocketful Of Sunshine believe that a prevention-based approach is the only way children can enjoy childhood and grow up to conscientious people